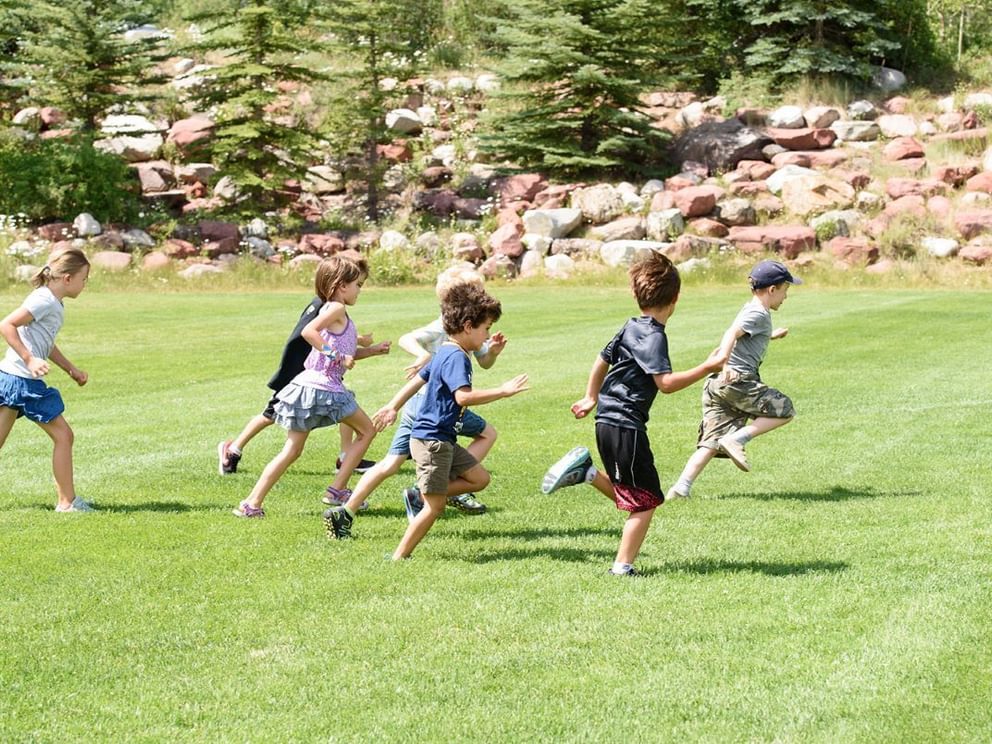 YOUTH Summer Day Camp
2022 Registration is Currently Open!
Come play with the Aspen Recreation Department! Aspen Recreation Camps are state-licensed programs designed for youth 5-10 years old (5 years old must have previously attended kindergarten) to come have fun with the Recreation Department staff when they don't have school. Camps will be packed full of fun & educational activities.
youth Summer Day Camp Activities
Click titles to view more info
Days/Times
Dates
Location
Ages
Cost
Sign Up

Mondays:

8:00 AM - 5:00 PM

Tuesdays:

8:00 AM - 5:00 PM

Wednesdays:

8:00 AM - 5:00 PM

Thursdays:

8:00 AM - 5:00 PM

Fridays:

8:00 AM - 5:00 PM

Jun 8 - Aug 23
Aspen Middle School
Youth

5-10

General

General Rate: $49 / day

Online Rate: $45 / day

48 Hour Cancellation Policy

Your Child Must Be Enrolled in a School in the Roaring Fork Valley
Helpful Links
2022 Parent Handbook

2022 Summer Camp Overview and Week 1 Schedule

2022 Summer Camp Schedules Kindergarten--1st Grade

2022 Summer Camp Schedules 2nd--4th Grade
Related News
2022 Summer Camp Info:
Registration is currently open.
June 8th through August 23rd
**Children must be enrolled in a school within the Roaring Fork Valley**
WELCOME BACK! We are so excited to be able to share another wonderful summer with you!

Come play with the Aspen Recreation Department during your summer break. Aspen Recreation Camps are state-licensed programs designed for youth 5-10 years old. Children will be place in groups based on the grade they're going into for the 2022/2023 school year. Kindergarten (previously attended--age 5) thru 1st grade and 2nd thru 4th grade. Days will be packed full of fun and educational activities such as swimming, skating, hiking and much more based on the COVID-19 protocol at the time.

Location: Aspen Middle School

Day Camp Ages: Camp welcomes youth in the Aspen Valley between the ages 5-10 years old (previously attended kinder thru 4th grade)

Drop Off: 8am - 9am Pick Up: 4pm - 5pm

Cost: $45 per day-online $49 per day-in person/over the phone

Please take the time to read over the changes to our policies and procedures:

Enrolling Your Child
• Registration will be a per day model.
• Hours of Operation: 8:00am-5:00pm
• Please make sure all your emergency information is updated in ePACT. If you need assistance, please let us know.
Cancellation Policy
All cancellations must be made 48 hours in advance in order to receive credit for another day. In the case of a child showing signs of illness, credit will be given with proper notice. Requests should be e-mailed to lyndsey.jackson@aspen.gov or by leaving a voicemail on (970) 319-4242. Please keep in mind, cancelling in this manner will help us keep your children safe and happy. Account credits will also be given in the case of a facility closure due to COVID-19. Thank you for taking the time to read these important camp rules! We look forward to partnering with you. Please contact Lyndsey if you have any questions, comments or concerns.

Drop off and Pick-Up:
Drop Off:

Drop-off will occur from 8:00am-9:00am ONLY.
Parents will drop campers off at Aspen Middle School
Parents/guardians will electronically sign-in/out their children using their ePACT QR Code. QR Codes can be found by logging in to your ePACT account via epactnetwork.com.
Once the counselor greets parents and campers, they will do visual inspection of the child for signs of illness, which could include flushed cheeks, rapid breathing or difficulty breathing (without recent physical activity), fatigue, or extreme fussiness. Parents will be asked if the child has shown any signs of illness or been exposed to those with illness.
Parents will answer pre-screening questions and enter their child's temperature via ePACT before dropping their child off at camp.
Persons who have a fever of 100.40 (38.00C) or above or other signs of illness such as excessive cough, sore throat, or shortness of breath will not be admitted to the facility. We are encouraging parents and staff to be on the alert for signs of illness in children that are enrolled and please keep your child home when they are sick.
Once children and staff have entered the facility, they will perform hand hygiene: Hand washing will be with soap and water for 20 seconds.
All children MUST be dropped off by 9:00am. This is to help ensure that all safety protocol is adhered to.


Pick-up: Drop off and Pick-Up: ONLY STAFF AND CHILDREN will be allowed in the building.
Pick-up will occur from 4:00-5:00pm ONLY
Parents will pick up campers at Aspen Middle School
Parents/guardians will electronically sign their children out using their ePACT QR code
Children MUST be picked up by 5:00pm.
If you are late in picking up your child, you will be charged a fee of $10.00 cash for every five minutes you are late due at the time you pick up your child.


Daily Requirements || Each child should bring the following EVERY DAY:
A facemask, which must be worn while at camp. We ask that you send two with your child so if one gets dirty, they have an extra. Please place the extra mask in a Ziplock bag to keep clean with an additional Ziplock bag for mask to be kept in while child is eating. Additional info can be found here: https://covid19.colorado.gov/mask-guidance
Their day pack, which will be placed in a designated laundry basket to keep items contained for each individual child
A full water bottle with the child's name printed on it. Drinking fountain will not be used. Touchless water bottle filling will be available.
Lunch w/ utensils (we cannot heat food) and a minimum of two snacks. **We will not be able to hand out snacks to campers so we recommend packing extra snacks each day.**
Proper clothing for all types of weather as we will still be going outside throughout the day. (i.e. sun hat, raincoat, light jacket, etc.)
Sunscreen for self-application. We recommend applying sunscreen before the child arrives at camp, but they may bring their own for reapplication if you wish for them to do so.
If your child shows signs of illness at any point during the day, we will isolate them from other child, and you will be required to pick up your child within 30 mins of the call.
If a child or staff become ill with a confirmed case of COVID-19 while in attendance at camp, Camp director will contact Nurse Consultant and Pitkin County Health Department for further instructions and all families will be notified of exposure. The facility will follow the guidance of the Pitkin County Health as to the amount of time we will be required to close and the disinfecting of facility.
Please DO NOT ALLOW your children to bring personal items such as toys, electronic devices, cell phones, etc. from home to camp. They may get lost or broken & are disruptive.
Appropriate footwear is a must. HEELYS, CROCS, FLIP FLOPS, AND SANDALS DO NOT WORK! We will be walking, hiking, and playing outside. Please make sure that you have well-fitting comfortable shoes when they come to camp. This is for the safety of your child.
Cleaning and Disinfecting
We are taking every precaution to ensure cleanliness and safety for your child. We will be adhering to the following cleaning and disinfecting procedures:
Staff will routinely clean, sanitize, and disinfect surfaces and objects that are frequently touched, especially toys and games, tables, and equipment.
Each night a deep cleaning will take place of the facility.
Staff will work with children to:

Cough or sneeze into their sleeved arm or cover their nose and mouth with a tissue. Throw away the tissue after they use it and wash hands
Avoid touching their eyes, nose, or mouth.
Wash their hands frequently and for at least 20 seconds with soap and water, especially after they cough or sneeze; an alcohol-based hand rub can be used if soap and water are not nearby.
Avoid sharing cups and eating utensils with others
Handwashing: We will be following all CDC recommend protocol. All children and staff will engage in hand hygiene at the following times:

Arrival to the facility and after breaks
Before and after preparing food or drinks
Before and after eating or handling food
After using the bathroom
After playing outdoors
Before transitioning to a new activity
Developmental posters describing handwashing steps will be placed near sinks.
Proper handwashing will be with soap and water for at least 20 seconds. If hands are not visibly dirty, alcohol-based hand sanitizers with at least 60% alcohol can be used if soap and water are not readily available. Children will be closely supervised when they use hand sanitizer to prevent ingestion
General Camp Information:
Youth will participate in a state-licensed program with qualified counselors. City of Aspen Day Camp is a State of Colorado licensed program and follows all State Regulations. For rules and regulations, please visit: www.cdhs.state.co.us

Comments, Concerns or Complaints

Aspen City Day Camp is enrolled in a childcare program that is licensed by the Colorado Department of Human Services. The license indicates that the program has met the required standards of the operation of a childcare facility. If you have not done so, please ask to see the license. We want to hear from you if you have questions or concerns about your child's care. We will make every effort to resolve any issues or concerns you have about the program.

Complaints regarding suspected licensing violations must be reported to:

Colorado Department of Human Services, Division of Child Care 1575 Sherman Street Denver, CO 80203-1714p. 303-866-5958

Complaints regarding the actual program should be reported to the Camp Coordinator or the Camp Director:
Camp Coordinator: Lyndsey Jackson 970-319-4242
Thank you for taking the time to read these important camp rules! We want your child to have a fun summer, but also a very safe summer!

Please contact us with any questions, comments or concerns! Operations Manager: Desiree Whitehead, 970-379-7178
youth Summer Day Camp Calendar