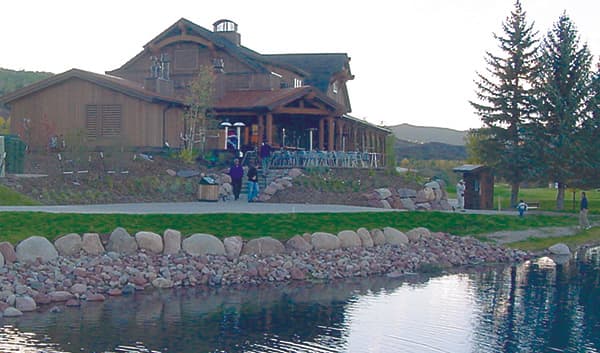 Location
Hours
Pre Season Tee Time Hours (until - June 30th)
May 2nd - May 14th

10:00 am - 6:00pm

May 14th - May 21st

8:30 am to 7:00 pm

June 1 - June 14th

8:00 am to 7:00 pm

May 22nd - June 14th

7:00 am - 7:00 pm

June 15th -June 30th

7:00 am to 7:00 pm

June 15th - June 30th

7:00 am to 7:00 pm
Peak Season Tee Times
June 15th - August 31st

7:00am - 7:00pm

Sept. 1st - Sept. 8th

7:15 am to 6:30 pm

Sept. 4th - Sept. 30th

7:30 am to 6:30 pm
Post Season
Sept. 25th - 30th

8:00 am to 5:30 pm

Sept. 9th - Sept. 24th

7:30 am to 6:00 pm
Closing (Oct. 1st - Oct. 31st)
Oct. 1st - Oct. 15th

8:00am - 5:30pm

Oct. 1st - Oct. 31st

8:30am - 5:00pm
Related News
Aspen Golf Club
This over 7,100-yard championship course is complete with a PGA award-winning pro shop, lessons, driving range, practice greens, cart rental and full-service locker facilities. In the winter enjoy the indoor Full Swing Golf Simulator this winter at the Aspen Golf Club.
Don't forget to stop by the fabulous Red Mountain Grill for a tantalizing array of fine foods and beverages.
Dede Cusimano Golf Academy is the exclusive provider for golf coaching at Aspen Golf Club. Regardless of your ability, Dede provides programs that are designed to improve your golf game no matter what age and ability level your are currently playing at. Whether you are a new golfer to the game or an experienced player, she will help you achieve your golf goals to make the game more enjoyable for you. From private golf coaching sessions, weekly clinics or customized golf schools, Dede Cusimano Golf Academy is here to teach the fundamentals of the game to players of all levels and develop each students ability beyond their expectations. Using state-of-the-art technology including FlightScope Launch Monitors and V1 Golf Swing Analysis, Dede and her instructors give each client an unparalleled golfing experience that allows players to cultivate their talents and capitalize on their potential! Adult clinics will be held Wednesday evenings from 5:30-6:30pm and Saturday mornings from 9:00-10:00am. For more information on private sessions, clinics, golf schools or custom club fittings, please contact Dede Cusimano, at dede@dedegolf.com or (914) 924-2126.
For more information visit aspengolf.com