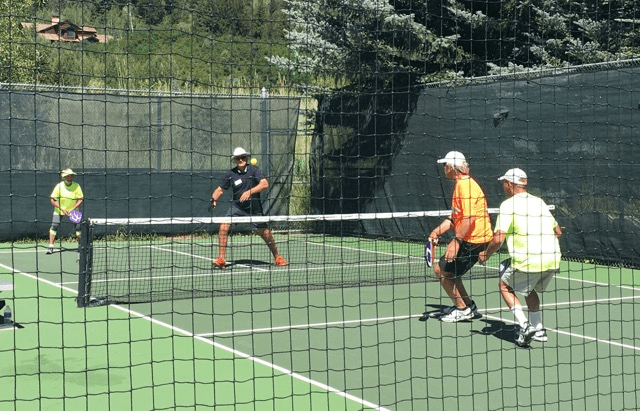 ADULT Pickleball
Summer 2021 Pickleball
There are 4 pickleball courts at the Iselin Field, open year-round, from dawn to dusk, and on a first-come-first-served basis. Scheduled programming can be found on the website and in the glass case at the courts. No attendee or membership will be available for summer of 2021. There is no rental equipment available.

Summer 2021 Pickleball Leagues
View the League Deck linked in the Helpful Links box, and register above!
Click the "Looking for Teammates" link to find others in the community hoping to form a team!
Team registration is for one TEAM, not per individual.
Summer 2021 Pickleball Drop Ins
Community Drop In Play: Starts May 3rd
Mondays, Wednesdays and Fridays
8am-12pm
Sign Up is required

Rules for Community Drop In Play:
ALL PLAYERS SHOULD HAVE INSTRUCTION OR PRIOR PICKLEBALL EXPERIENCE BEFORE JOINING OPEN PLAY. THIS INCLUDES BASIC SKILLS, KNOWLEDGE OF GAME AND UNDERSTANDING OF SCORING AND POSITIONING.

Court Assignments:
Unless otherwise posted, ALL courts are open to ALL players.
Normally the higher level players tend to play towards the far courts and lower level players towards the entrance.

Games:
Games during Drop-in should be played to 11 points, win by 2 with a 15 point cap.
Balls: ALL PLAYERS bring their own balls.

Rotation:
If 1 or 2 players are waiting for a game, set your paddle next to the net of a court that you would like to enter. When the game ends, winners stay & split. Losers exit the court so that new players can enter. When a game ends, it is helpful communication if you calls for the new players to come on the court. If the winners have played 2 consecutive games on the court, they should leave.
IF 3 players are waiting, winners decide which one stays, subject to number of games played on the court.
IF 4 or more players are waiting, and play on court ends, all players on that court are replaced by the first 4 players.
Do not move anyone's paddles but your OWN.
Use common sense & courtesy. If you see new or unfamiliar people, introduce yourself and welcome them to the courts! Be a steward & help them with the above rotation. Good sportsmanship goes a long way toward improving everyone's experience!!!

Pickleball Clinics:
Beginner Pickleball Clinics (Organized thru CMC at coloradomtn.edu)
June 1- Aug 19 T/TH 8am-9:30am- (Court 1 will be reserved and all other courts open for public play)

Intermediate Pickleball Clinics (Organized thru CMC at coloradomtn.edu)
June 1- Aug 19 T/TH 9:30-11:00am- (Court 1 will be reserved and all other courts open for public play)


Pickleball Privates:
Agencies must have active Field/Court User Contract with the City of Aspen and must reserve courts 24 hours in advance. Only 2 courts can be reserved at a time for $29 per hour. If coaches or trainers are caught training without a reservation, they will be asked to leave the courts. For contract questions and inquiries please contact desiree.whitehead@cityofaspen.com.
Private or Group Pickleball Lessons Instructors:
Trey Palmer, PPR Certified Instructor
Tcpal3rd@AOL.com
970-948-0176
2 or more players- $40 per person for 1.5hrs.
Private- $45 one person for 1hr


COVID-19 Public Health Guidelines must be followed to avoid closure. Please respect Pitkin County Health Orders.

Rules for outdoor courts:
• NO abusive language permitted
• Sitting or leaning on the nets is prohibited
• NO pets, bicycles, skateboards, roller-skates, rollerblades or cleats allowed
• NO SMOKING


These rules will be interpreted and enforced by the Aspen Parks and Recreation Department. Non-compliance may result in denial of pickleball court usage. These rules and regulations are subject to change.

adult Pickleball Calendar