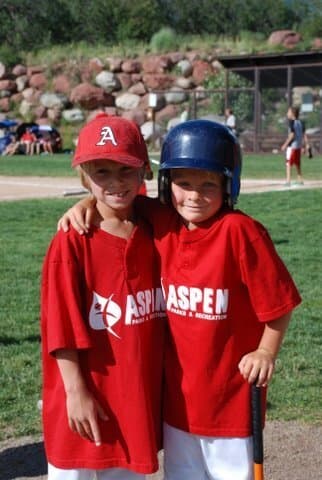 YOUTH Baseball & Softball
SUMMER 2021 YOUTH BASEBALL, T-BALL, & SOFTBALL IS ON!

The Youth Baseball program focuses on teamwork, sportsmanship, the development of a healthy competitive spirit and the fundamentals of baseball. This is a RECREATIONAL program, where social engagement, fundamental development, and 100% PURE FUN are the points of emphases.
REGISTRATION OPENS: Monday, April 26th, 2021 | REGISTRATION CLOSES: Sunday, May 30, 2021
SEASON OPENS: Monday, June 14th, 2021 | SEASON CLOSES: Friday, July 30, 2021
ACCESS THE TEAM GRID AND SELECT YOUR TEAM CODE FOR REGISTRATION (In the "Helpful Links" Window)
NOTE YOUR TEAM CODE, THEN CLICK THE REGISTER BUTTON AND REGISTER WITH THAT TEAM CODE
youth Baseball & Softball Leagues
Click titles to view more info
Days/Times
Dates
Location
Ages
Cost
Sign Up
Jun 14 - Jul 30
Aspen Community Fields
Youth

Kinder T-Ball, 7-8 Coach Pitch, 9-10 Boys Kid/Machine Pitch, 11-12 Boys Kid Pitch, 8 - 10 / 11-12 Girls Machine Pitch Softball

Vary
2021 Summer Youth Baseball & Softball
We are reliant on volunteer coaches to make this League happen, please sign up to coach in the HELPFUL LINKS window if you are willing to support!

---
REGISTRATION OPENS: Monday, April 26th, 2021 | REGISTRATION CLOSES: Sunday, May 30, 2021
SEASON OPENS: Monday, June 14th, 2021 | SEASON CLOSES: Friday, July 30, 2021


KINDER COED T-BALL:
Practice once per week for one hour, with an end-of-season scrimmage on our Rotary Field, Friday July 23rd, 2021
7-8 COED Coach Pitch BASEBALL:
Coaches Pitch, practicing twice per week for 90 minutes with games on Fridays, beginning Week 2 (Friday June 25, 2021)
9-10 BOYS Kid/Machine Pitch BASEBALL:
Teams can have kids pitch, or utilize the pitching machine for more consistent throws in games/scrimmages.
Practice twice per week for 90 minutes with games on Fridays, beginning Week 2 (Friday June 25, 2021)
11-12 BOYS Kid Pitch BASEBALL:
Kids pitch, practicing twice per week for 2 hours with games on Fridays, beginning Week 2 (Friday June 25, 2021)

8-10 GIRLS Machine Pitch SOFTBALL:
Teams can have kids pitch in practice, but utilize the pitching machine for more consistent throws in games/scrimmages.
Practice twice per week for 90 minutes with games on Fridays, beginning Week 2 (Friday June 25, 2021)
11-12 GIRLS Kid Pitch SOFTBALL:
Kids pitch, practicing twice per week for 2 hours with games on Fridays, beginning Week 2 (Friday June 25, 2021)
All Ages determined by age as of June 14th, 2021


Rainout Program Hotline544-5834 (JUDI)


At-Home Resources for Youth Athletes & Parents: Click below to be taken to great resources for At-Home activities for Youth Baseball Players!
USA Baseball

youth Baseball & Softball Calendar